Happy 41st B-day Today!!!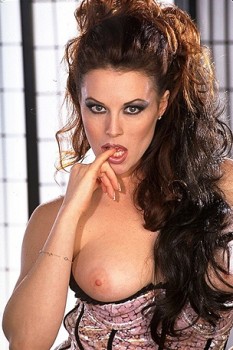 Alisha Klass (born in Chino, California) is an American porn star.
She began starring in pornographic movies in around 1997 and became one of Seymore Butts infamous "Tushy Girls". This sex goddess has a near perfect body, and even got a tattoo of Seymore's name on her ass to prove how much she loved his videos, although she later had the tattoo covered by one of a dolphin. She has also worked as a host on the Playboy television show, Inside Adult. She briefly hosted a radio talk show on L.A.'s 92.3 FM, The Beat; the show aired on Friday nights and discussed topics of a sexual nature.
Alisha was a Las Vegas stripper when she first left her home state of California. She later became a hooker, and things started turning around for her when she graduated with a degree in fashion design from the Fashion Institute of Design and Merchandising.
Klass briefly dated actor Bruce Willis in 2001. She appeared in the mainstream film The Center of the World and filmed scenes for the film Cruel Intentions, which were not included in the final theatrical release (her scenes are included on the DVD, however).
Personal
Also known as: Alysha Klass, Alisha Klause
Born: January 3, 1972 (age 41)
Chino, CA
Years active: 1997-2002
Ethnicity: Caucasian
Nationality: American
Body
Measurements: 34-24-34
Bra/cup size: 34C (75C)
Height: 5 ft 6 in (1.68 m)
Body type: Slim
Hair: Brown